The Last Ticket out of Thistleberry Thicket (2019)
(15 female roles, 11 male roles, 7 roles any gender)
It is the eve of the Harvest Festival in Thistleberry Thicket, and Emeline, a young garden sprite, is set to be married, per the town's custom, to the most boring bachelor in town. When a mysterious postcard blows in overnight, however, it sends all of the woodland creatures that live there into a tizzy! Will the residents of Thistleberry Thicket succumb to superstitions over Bad Luck, or will they follow Emeline's lead and use this unnatural occurrence to inspire them to adventure? The Last Ticket out of Thistleberry Thicket follows Emeline as she navigates the troubled waters of tradition, expectation, and duty, and faces the subtle line between selfishness and selflessness.
A constantly-frazzled mayor, a forgetful snail postman, and a bedazzled narrator by the name of Curtis J. Magpie are just some of the endearing and entertaining characters that populate this story that's full of humor and heart, making it perfect for audiences of all ages.
Ginger and Chase Across Time and Space (2016)
(9 female roles, 13 male roles, 9 roles any gender, many ensemble roles)
When their parents are suddenly abducted by collectible-obsessed aliens called Gleaners, shy Chase and moody Ginger must team up with budding Space Ace Billy Tesla and the compassionate and strange alien Iolite to bring them home! Travelling across the galaxy in a Space Saver cardboard box, the group of adventurers will encounter rough and tough bullies in the Liebrary, cunning Space Pirates in the Cloud Bank, and mulch-obsessed plant creatures upon the tiny Plantoid Planetoid! But more importantly than that, they will learn to appreciate their talents, come out of their shells, and learn that they aren't just who their parents want them to be.
This science fiction adventure is full of excitement and one-liners, making it perfect for performers and audiences of all ages!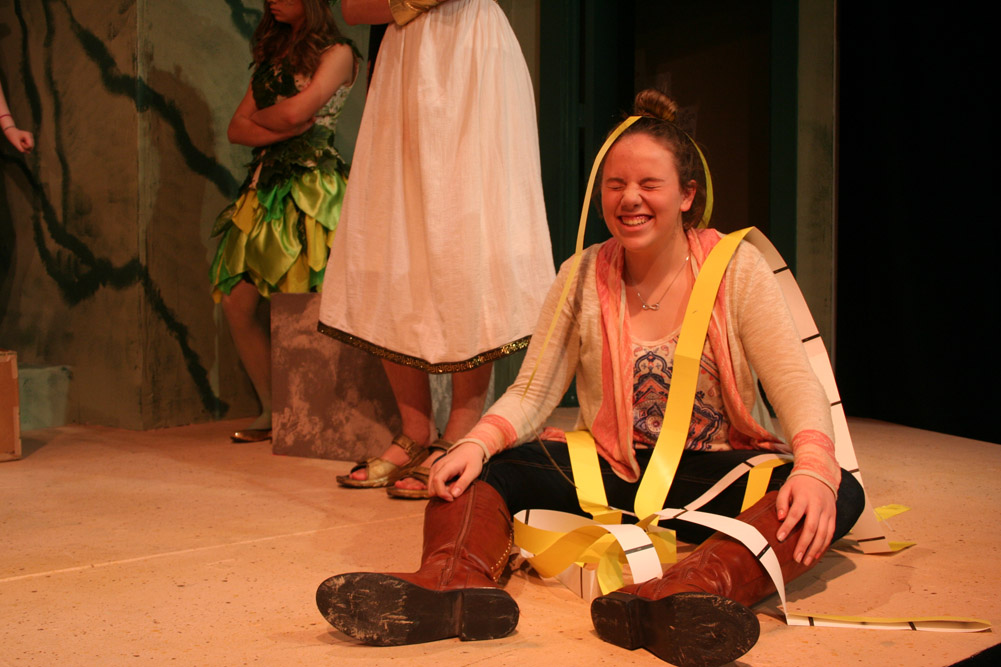 Pandora's Boxer Briefs (2015)
(9 female roles, 10 male roles, 9 roles that can be either)
Doris Maples is the leader of the Bug-Eye Underground Theatre Troupe (B.U.T.T. for short), and all she wants to do is put on a successful production of their original play, Pandora at the Prom. Unfortunately, she has to deal with an unfinished script, increasingly defective props, forgetful actors, temperamental costumers, and a grouchy old woman that will stop at nothing to shut them down! …And that's all before her prop master Stuffy Stevens accidentally opens the real Pandora's Box, unleashing the destructive spirits within, who quickly find that they have onstage aspirations of their own!
Pandora's Boxer Briefs is a fast-paced backstage comedy about the power of creating theater together, even when it goes so, so wrong!
The Incredible Illustrated Iris (2014)
(9 female roles, 5 male roles, 6 roles any gender, some ensemble roles)
Even on her birthday, the only thing Iris Meriwether wants to do is sit in her room and read comic books. The Amazing Alexander is also celebrating a birthday within the pages that Iris reads, and he too is wishing things were different. So, with a bit of birthday magic, the two somehow end up switching places!
Now it's a race against the clock as Iris must somehow find a way to stop the evil plot of The Robot Queen, Alexander's ex-best friend that's brought together all of his greatest foes to bring him an explosive birthday bash! Meanwhile, Alexander must enlist the help of Iris's irascible little sister Cici to help him find the one thing that can put him and Iris back where they belong!
The Rest of the West (2013)
(11 female roles, 12 male roles, 2 roles any gender)
This rousing cowboy comedy shoots from the hip and hits the funny bone! Cyanide Gulch, the fourteenth-wildest town in the West, is riled up on the day of the Big Shootin' Contest, which awards the Red Ryder '73 BB gun of the late great Six-Gun Schmidt to the best shot in town. Everyone is vying for the prize, including Annabelle Oates, a waitress at Sugar Shepherd's Sassy-parilla shack; Peter Pig-Iron and his gang of outcast outlaws; and Double Aces McElroy, who is behind bars because he cheated in a game of Uno with Mayor Jeff Jeffries. The only person who isn't interested in the gun is Schmidt's own son, Jasper, who would rather put on plays for the bored townspeople. When Jasper inadvertently enters the contest, he and his friends find themselves on the run from outlaws, angry wives, and two people dressed up as a horse!